Whatsapp is the world's favorite and most popular messaging app. It doesn't feel like a third-party app anymore. It becomes a part of our life. Even, people use Whatsapp for their businesses.
That is the reason why Whatsapp introduced the Whatsapp business app.
But, do you know there are a lot of hidden Whatsapp tricks that you are still missing? Below are some of the interesting Whatsapp tricks & tips that will enhance your Whatsapp experience. So let's begin:
1. Send Bold, Italic, Strike formatted text
This is an old feature and most of us don't even know about that. We can write messages with limited formatting. We can write messages in Bold, Italic, and strike through formatted text in WhatsApp.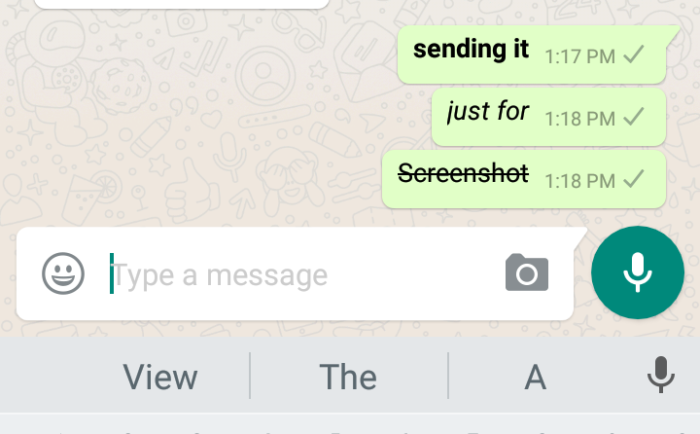 For Bold:  *Hi*
For Italic:  _Hi_
For Strike-Through :  ~Hii~
 2. Quote Person in the Group
You must have a 4-5 WhatsApp group named Family, Cousins, Since College, Since School, Office, etc. etc. It takes a lot of time if you want to ping one particular person in the group.
Also Read: How to Enable Two-Step Verification in WhatsApp
But with this WhatsApp feature, you can ping to one particular person in the group.
All you need to do is to add @name of the person. Like you want to ping ABC person, just write @ABC.
3. Reply to message without opening WhatsApp
You don't need to open the WhatsApp app to reply to the messages. In the Dropdown menu, instead of opening the message, tap on the reply button, a pop-up would appear, just write your message, and hit send. No need to open the App.
4. Check timing of reading the Message
Are you in a group where your crush is also a respected member? It usually happens in the college or school groups. You keep on making some awesome punch lines but nothing, as expected, happened.
See Also: How to spy someone's Whatsapp using XNSpy
But wait, you can check if she is ignoring you. All you need to do is to Tap and hold on the sent message by you in the group. Then tap on the "i" button on the top. You would get all the details about the message.
5. Add Shortcut to your Favorite people
There is some special person we talk more than anyone. Let cut extra step to reach them.
Create a shortcut of that special person on your Home screen. To do that, just tap and hold on the contact you want to add a shortcut then, click on the dotted menu at the top right corner.
A widget will pop up, tap on Add. The shortcut is added on Home Screen.
6. Get Rid of Blue Tick & Hide your Last Seen




You might hear about the problems that start happening after this blue tick update. There were cases related to Relationships, Friendship, hurt breaks, and much more.
But do you know, you can get rid of both of these. Yes, just 2 taps can save your life.
To disable the Blue Tick option or say Read Receipt option, Go to Settings >Account > Privacy > Under Messaging Head, Untick the Read Receipts option. Above that there is the Last Seen option too, open the option and change as you like. But, If you hide your Last Seen, you will also not able to see  Last Seen of other people.
See Also: How to block unwanted Comments on Instagram
7. Use WhatsApp on your PC or Laptop
Maybe your phone ran out of battery and you just touched a very interesting topic. But what to do?
You can use WhatsApp on your PC or Laptop also. You can send and receive the messages on PC. Moreover, you can also download the media on your computer. But How? I already have an awesome article about How to use Whatsapp on PC or Laptop.
8. Bookmark Important messages
We share a lot of information with each other. Most of them are just a message but some are also important information. For example, you asked your friend someone's contact number and with the passage of time that number buried under the new messages.
See Also: How to Download Covid Vaccination Certificate using Whatsapp
For finding that one Number, you have to scroll many times. But not anymore.
What you can do is tap and hold the message you want to bookmark. Then tap on the Star icon on the top. That message is now Starred Message. You can have all the Starred messages in the WhatsApp home. Tap on the dotted menu, tap on Starred Messages.




9. Share Documents, Gif, Live Location and much more
Whether you are a student or in a job or a businessman, there are documents files in form of pdf, .doc, .xml, .ppt etc. You can share all these files on Whatsapp. Moreover, you can also send your location to anyone. It becomes really handy to share our location by just a tap rather than explaining to them the street number near ABC landmark. Along with these, we already know about sharing audio, video, images, contact.
10. Enable Whatsapp Dark Mode
Dark Mode on Whatsapp is not a new thing but if you are still deprived of using it, well this is the time to use Dark Mode on Whatsapp. Dark Mode goes easy on eyes, especially at night.
To activate Dark Mode on Whatsapp, go to Settings > Chats > Theme > Select Dark Mode.
11. Mute Stories
Some people are hard to handle. Their annoying Whatsapp stories might be irritating for you. Mute them. Go to stories and tap & hold on the person's story you wanted to mute. Tap on mute.
12. Listen to Audio Messages Privately
There are times when you cannot listen to an audio message in front of anyone or everyone. Here is what to do to listen to audio messages privately while you are in the public.
Play the audio message and bring the phone close to your ear like you do while on call. Use the earpiece to listen to the audio messages. The moment you lifted your phone and brought near to the ear, the proximity sensor will automatically switch the speaker.
13. Hide Whatsapp Group Videos/Photos in Gallery
People in groups share weird things. You might don't want to see it in your phone's gallery. Here is how to hide those photos/videos in the gallery.
Go to Whatsapp Group
Tap on 3-Dot menu at the top right corner
Tap on Group info
Select Media Visibility > Select No.
It will hide the Whatsapp group media in your phone's main photo gallery.
14. Delete Videos/Photos/GIFs of Particular Chat
There is an option in Whatsapp that allows you to delete Photo/Video/GIFs sent by a particular person. Here is how to do that:
Go to Settings.
Data & Storage usage
Storage Usage
Open the contact you wanted to delete media of
Tap on Free up Space
Select the media you wanted to delete.
15. Use Fingerprint to Lock Whatsapp
There are a lot of 3rd party apps to lock the Whatsapp app but you don't need those 3rd party apps to lock the Whatsapp. There is a native Whatsapp feature to unlock the Whatsapp using your fingerprint. Most of the smartphones have a fingerprint sensor but if your phone doesn't have that, you can skip this.




Here is how to use Fingerprint to unlock Whatsapp:
Go to Settings of Whatsapp
Now go to Account and then Privacy.
Scroll all the way down and here you will see Fingerprint Lock. Open and Enable it. Confirm Fingerprint.
Now no one will be able to open your Whatsapp app on your phone without your fingerprint. You can also hide content the message content on the notification tray.
16. Get your Account Information Report
Do you know you can ask your account information report from Whatsapp? The report doesn't include any messages.
Here is how to get account information:
Go to Settings > Account
Select Request Account info
Tap on Request Button
It will take 3 Days to deliver the account information report.
17. Change Chat Wallpaper
You might never notice the background of your chat. Go to Whatsapp and see the background wallpaper right now. It is boring. Here is how to change the wallpaper of your Whatsapp chat.
Go to Settings.
Tap on Chat > Wallpaper
Select the Wallpaper from Gallery or from Whatsapp Library
That will change the wallpaper of all the chats. If you want different wallpaper for different chat, you need to do it manually. Here is what to do for changing the wallpaper of a particular person's chat:
Go to Whatsapp Chat
Tap on 3-dot menu on the top right corner and then select Wallpaper
Select wallpaper from Gallery or Whatsapp Library. You can also use Solid Colors if you want.
18. Backup Whatsapp Chat on Google Drive
You can create a backup of your Whatsapp chat on Google Drive. Google Drive is a safe option to keep your chat backup. Here is how to create Chat backup on Google Drive:
Go to Whatsapp Settings.
Go to Chat.
Select Chat Backup and select the Google Account you want to sync back up with. Make sure Google Account is logged in your Android Smartphone.
Select Backup to Google Drive frequency to Daily.
19. Check Network Usage
If you have an unlimited data plan, you can skip it but if you have a limited data plan you might be looking to track your Network Usage by Whatsapp. Check Network Usage here:
Go to Settings.
Now select Data & Storage Usage
Select Network Usage
Here you will find all the network stats and where your data is going in what manner.
20. Hide Whatsapp Stories from Certain People
There is a strong possibility that you wanted to hide a few Whatsapp stories from certain people, maybe your parents and relatives.




Here is how to hide Stories from certain people:
Open Whatsapp and go to 'Status'
Now tap on 3-Dot menu at Top Right corner
Select 'Status Privacy'.
Now select 'My Contacts Except'
Select the people you wanted to hide Whatsapp Status/Stories from
Select 'Only Share with' option if you want very few people to look at your stories.
21. Share Direct Link of Youtube/Website on Whatsapp Stories
Sharing website link or youtube video link in your Whatsapp Story is tricky. If you copy-paste the link as the caption, it won't be clickable. But there is another way using that you can add Clickable Link of any website or Youtube Video in your Whatsapp Story. Here is how:
Copy the youtube video or website link and follow this:
Go to Whatsapp and open Status
Now Click on 'Pen' looking icon at the bottom right corner
Tap and Hold.
Paste the link and wait for 1-2 seconds to load the thumbnail. Once you see the Thumbnail, select the arrow to post it.
22. Delete the Sent Messages
Sent something by mistake? Delete it. Yes, you can delete the sent messages on Whatsapp but within a fixed period of time.
Here is how to do it:
Tap & hold on the message
Select the 'bin' icon on the top
Select 'Delete for Everyone' to delete the sent message on Whatsapp.
Just make sure you delete it within 30 minutes of sending it. After that, you will not be able to delete the sent messages.
See Also: 51 Cool Websites to Kill Boring Time
So, these are some of the latest Whatsapp tips & tricks you can use in your day today usage. Whatsapp keeps coming with new updates and we will keep on updating this blog post. You can bookmark this blog post for future updates.