Whatsapp is world's favorite and most popular messaging app. It doesn't feel like a third party app anymore. It becomes a part of our life. Even, people use Whatsapp for their businesses. They send photos of a sample and make deals on it.
But, are you known to everything about Whatsapp? Maybe not. Today, after reading this post, you would learn 10 awesome things that you could do on WhatsApp. So let's start.
1 ) Send Bold, Italic, Strike Through formatted text in WhatsApp
This is an old feature and most of us don't even know about that. We can write messages with limited formatting. We can write messages in Bold, Italic, and strike through formatted text in WhatsApp.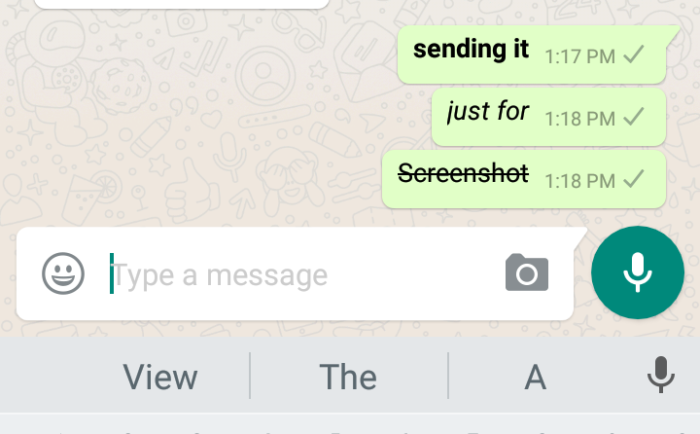 For writing Hii in Bold, write Hii as *Hii*, for italic write Hii as  _Hii_, for Strike Through, Write Hii as ~Hii~.
 2 ) Ping to a particular Person in the Group
You must have 4-5 WhatsApp group named as Family, Cousins, Since College, Since School, Office etc. etc. It takes a lot of time if you want to ping one particular person in the group because we first need to tell to whom you are saying it. Everyone wants to take a credit of everything in that.
Also Read: How to Enable Two-Step Verification in WhatsApp to Secure your WhatsApp account
But with this WhatsApp feature, you can ping to one particular person in the group. All you need to do is to add @ before entering the name of the person. Like you want to ping ABC person, just write @ABC, it would ping to ABC about the message.
3 ) Reply to message without opening WhatsApp
Some people are just interested to know about your contacts on WhatsApp especially if you are at some public place like Bus or Metro. In that case, we ignored the message because you are not interested in showing your contact list to those starring eyes. Try this one, whenever you receive a message. In the Drop down menu, instead of opening the message, tap on the reply button, a pop-up would appear, just write your message and hit send. No need to open the App.
4 ) Is she Ignoring you? Let's Find out.
Are you in a group where your crush is also a respected member? It Usually happens in the college or school groups. You keep on making some awesome punch lines but nothing, as expected, happened. Then you console your heart by saying "she must be busy".
But wait, you can check if she is ignoring you. All you need to do is to Tap and hold on the sent message by you in the group. Then tap on the "i" button on the top. You would get all the details about the message. Who read your message, who is pending to receive the message and all that. So, next time, must check, whether she is reading your message or not?
See Also: 9 Best Showbox Alternative You Can Use
5) Add Shortcut to your Favorite people
There is some special person we talk more than anyone. Let cut extra step to reach them. Create a shortcut of that special person on your Home screen. To do that, just tap and hold on the contact you want to add a shortcut then, click on the dotted menu above. A chat head would appear on the Home Screen. Just tap on that head to chat.
Also Read: How to Use WhatsApp Web on PC & Mac
6) Get Rid of Blue Tick & Hide your Last Seen
You might heard about the problems that start happening after this blue tick update. There were the cases related with Relationships, Friendship, hurt breaks and much more. This last seen option also created a lot of nuisance for you by your relatives, friends etc. etc.
But do you know, you can get rid of both of these. Yes, just 2 taps can save your life. To disable Blue Tick option or say Read Receipt option, Go to Settings >Account > Privacy > Under Messaging Head, Untick the Read Receipts option. Above that there is Last Seen option too, open the option and change as you like. But, If you hide your Last Seen, you cannot be able to see other's Last Seen also. Clever WhatsApp.
7) Use WhatsApp on your PC or Laptop
Maybe your phone ran out of battery and you just touched a very interesting topic. You don't want to ruin that lust to discuss that topic. Don't worry. Charge your phone. You can use WhatsApp on your PC or Laptop also. You can send and receive the messages on PC. Moreover, you can also download the media on your computer. But How? I already have an awesome article about How to use Whatsapp on PC or Laptop.
8) Bookmark Important messages
We share a lot of information with each other. Most of them are just a message but some are also an important information. For example, you asked to your friend someone's contact number and with the passage of time that number buried under the new messages. For finding that one Number, you have to scroll many times. But not anymore. What you can do is to tap and hold the message you want to bookmark. Then tap on the Star icon on the top. That message is now Starred Message. You can have your all the Starred messages in the WhatsApp home. Tap on the dotted menu, tap on Starred Messages.
9) Share Documents, Gif, Location and much more
Whether you are a student or in a job or a businessman, there are documents files in form of pdf, .doc, .xml, .ppt etc. You can share all these files on Whatsapp. Recently, WhatsApp also becomes compatible for sharing gif images. Moreover, you can also send your location to anyone. It becomes really handy to share our location by just a tap rather than explaining them the street number near ABC landmark. Along with these, we already know about sharing audio, video, images, contact.
Also Read: How to Install Exodus on Kodi for Free Movies & TV Shows
10) Video calling
This is the most awaited feature on WhatsApp. So, WhatsApp finally introduced the video call option. Along with voice calls, you can also have the feature of the video call. Just tap on the phone icon and choose Video Call to start the video call.
So, these are 10 awesome things you can do in WhatsApp to have much better experience. These features indeed make our life easier and would make you a Pro whatsapp user.
Share it with your WhatsApp buddies. Also, share it on your social media. If you know any other feature that I missed out, let me know in the comment section. I would update this article for others.