Truly wireless earbuds are the latest consumer tech which is admired by a big chunk of the population. The wired earbuds are good as long as they don't get tangled or you knock them off while pumping up in the gym. They have their own faults due to wires.
See Also: 11 best earphones under Rs. 2000
If you are looking to buy wireless earphones under 5000 in India, this list can help you find the best pair of wireless earbuds for you. These truly wireless earbuds can be your best companion when you are in the gym, running, cycling, or even day-to-day regular entertainment usage like music, binge-watching Netflix, Gaming.



Below are some of the best truly wireless earbuds under 5000 that you can buy in India. These truly wireless earbuds are not the best alternative to Apple AirPods but still, it serves the purpose.
See Also: Best Bluetooth Speakers under ₹5000
How I Picked these Wireless Earbuds?
I just want to introduce you to the latest value for money earbuds, equipped with the latest tech from reliable brands that too within your budget.
So for that, I first check the Bluetooth Version as it is the basic tech for any wireless earbud. Along with the latest Bluetooth version, I also check if it comes with aptX support or not. Battery backup is also a prominent point I consider before adding the name to this list. Everything will go in vain if you are not comfortable wearing the wireless earbuds. So it must be comfortable for every type of ear canal. Features like Water, dust-resistant, touch controls act as a cherry on a cake.
After considering all these factors, I came up with these names (mentioned below) that will satisfy all your needs that you are looking for an ideal pair of truly wireless earbuds under 5000 that you can buy in India.
To make sure you get the latest tech, I update this wireless earbuds list every month where I add the latest earbuds and remove the outdated ones.
See Also: Best Truly Wireless Earbuds under Rs.10,000 in India
16 Best True Wireless Earbuds under ₹5000 in April 2021
Here is the list of best Bluetooth earphones under 5000 you can buy in India.



1.
OnePlus Buds
Here we have the truly wireless earbuds under 5000 from OnePlus. The earbuds look subtle and elegant in design. Talking about the earbuds, it comes with a 13.4mm Dynamic Driver powered with Dolby Atmos. The Netflix sessions are going to be so good with immersive 3D sound. If you are someone who wants to play games on OnePlus Buds, there is good news for you and that is, OnePlus Buds comes with a low latency rate of just 103ms and this latency rate is good enough to give you real-time lag-free sound.
On a full charge, the OnePlus earbuds give you 7 hours of continuous playback and with a charging case, you get extra 30 hours of power backup. There is a USB Type-C port on the charging dock/Carrying case of OnePlus Buds and with just 10 minutes of charge, you get a playback time of 10 Hours. These are pretty impressive numbers if you are someone who travels a lot (not these days, of course). Environmental Noise Cancelation is decent on OnePlus buds and considering the price point, it is not a deal-breaker at all.
The OnePlus Buds comes with touch controls and it functions with different touch combos like Next/Previous, Play/Pause, Triggering Voice Assistant, Accept/Reject Calls. IPX4 Splashproof rated, 3 color variants Gray, White & Nord Blue, this is an easy pick for someone looking for the perfect pair of truly wireless earbuds under Rs.5000 in India.
2. OPPO ENCO W51 (Updated Version)
Here are the most awaited truly wireless earbuds under Rs. 5000. This is Oppo Echo W51, updated and a little bit better than W31 (mentioned in this list).
Talking about the Enco W51, it comes with Active Noise Cancelation (ANC) which we usually get in earbuds under Rs.10,000. The Enco W51 is equipped with Binaural Low-Latency Bluetooth 5.0 that gives you delay-free transmission. The earbuds also come with Wearing Detection where earbuds automatically sense if earbuds in the ear canal or laying down ideal. When removed from the ears, it automatically pauses the music, and wearing it back will play the music. It has an ergonomic design that gives you a perfect fit and stays comfortable on the ears. For all those rough and tough people, who use earbuds while exercising or running or any other kind of activity can easily use this earbud as it comes with an IP54 rating. An IP54 rating makes them dust & waterproof.
With mere 15-minutes of charge, you will get 9 hours of playback time while ANC on. Chances are, you will get more than 9 hours with ANC off. On a full charge, you get 24 hours of backup. For the price, it is indeed one of the truly wireless earbuds you can get for under Rs.5000 in India.
3. JBL Tune 120TWS by Harman
Who doesn't know JBL? Well, here are truly wireless earbuds from JBL that too under Rs. 5000. The earbuds come with a good package and an ideal balance between the price and the features. To begin with, it comes with JBL Pure Bass Sound with a 5.8mm driver. If you are a bass head or someone who loves EDM, Dance, Pop music, the bass on these TWS earbuds is definitely going to impress you. For proper bass production, make sure the ear tip is tight. You get 3 silicone ear tips in the box that you can use according to the size of your ear canal.
Aesthetically, the earbuds look pretty stylish and comfortable. It looks something like Sony WF1000XM3. There is gorgeous LED lights on the earbuds that show the status of earbuds when connected or ready to pair.
The design is modern and definitely not that outdated one. On a full charge, you get 16 hours of playback which is good enough. Please note, 16 hours means, 4hours for the earbuds, 12 hours with the case. With just 15 minutes of charge, you get 1 hour of backup which is impressive especially if you are using it on daily basis for video calls, voice calls, or just for Netflix and chill. You get a clear LED indication for the power status of the case. The case uses a USB cable to get charge.
The earbuds do support the Google Assistant and you can trigger the voice assistant with mere the press of a button. Available in 6 vibrant colors, this is a great pair of tws earbuds under 5000. If you want TWS earbuds from a first-tier brand or specifically from the house of Harman, this JBL Tune 120 is the best TWS earbuds you can buy under Rs. 5000.
4. Noise Shots X5 Charge
Noise is doing really well in terms of truly wireless earphones in an affordable price range. Noise Shots X5 Charge is their latest addition in the product line up which is packed with the latest tech. Shots X5 comes with Bluetooth 5.0 which is the most updated Bluetooth version to date. The earphones are compatible with all the Bluetooth-enabled devices like Android, iOS, macOS, Windows, or any other possible OS equipped with Bluetooth.



X5 Charge packed in a rubberized material that comes with an IPX5 rating which makes them sweat and splash-proof, good for gym and rain splash. With the 2,200 mAh charging case, you can charge X5 for 10 times and in a single charge, you can use the earbuds straight for 5 hours. With the quick charge of 15 minutes, you will get 1-1.5 hours of usage. You can also use the charging dock to charge the phone or other devices using that 2200 mAh charging case. You can control your music and attend/reject calls using the buttons on both earbuds. Along with that, you can also trigger Siri and Google Assistant with the long press button on the earbud.
Talking about the sound quality, Noise X5 Charge delivers crispy distortion-free sound with deep bass and balanced mids and highs. Overall it is good to listen to music on Noise X5 Charge.
Here is something you need to know, the earbud will deliver perfect sound with deep bass only when they fit well in the ear canal. Any leak in the sound will ruin the bass. So, always make sure, the earbud fits perfectly in the ear canal tightly. You will get 3 extra silicone tips with X5 of different sizes. Try them all and see which one fits best for your ear canal.
You will get 4 color options viz, Black, Acid Blue, Candy White, and Hot Black.
5. Crossbeats Urban 2020
Crossbeats dropped their new wireless earphones, Urban 2020, which is now improved and equipped with better specs than the predecessor.
Crossbeats Urban 2020 is equipped with advanced audio drivers that produce the deep, thumping bass and clear, crisp highs. The new Urban 2020 wireless earbuds also come with Passive Noise Cancelling technology. For better connectivity, Crossbeats Urban 2020 is equipped with the latest Bluetooth version 5.0 that provides you connectivity up to 33ft. The wireless earphones are IPX6 rated which means you can easily carry them in the pool or in the gym. On a full charge, you can use the Crossbeats Urban 2020 for 12 hours which is really impressive and using the charging dock, you can fully charge the earphones 3 times.
Crossbeats Urban 2020 available in 3 colors are Baby Pink, Matte Black, and Turquoise Blue.
6. 1MORE Wireless Earphone
Here we have another pair of best earbuds under 5000 that deserve a place in this list. Talking about the earbuds, it comes with Bluetooth 5.0 and equipped with Qualcomm aptX Audio Technology for delivering the best audio experience on Android & iOS devices. With the single charge, you would get a battery backup of almost 6 hours. Fast charging on 1More wireless earbuds would give you 3 hours of battery backup from 15 minutes of charge which is really impressive. The 7 mm dynamic driver reproduces the crystal clear audio in a compact design. For noise cancellation, the DSP (Digital Signal Processing) technology allows you to attend to calls even in noisy busy places.
You can choose among 4 color options, Green, Black, Gold & Pink, for your 1More Wireless earbuds.
Note: Prices may fluctuate with time
7. Oppo Encho W31
Oppo recently dropped W31 which is a truly wireless earbud in a very affordable price range. At the very first glance, Oppo Encho looks stunningly gorgeous to the eyes. You get two color options, Black & White, and aesthetically,  both look bold and stunning.
If you are someone who plays games on their smartphone, Oppo Encho W31 could be the best fit for you as it comes with Ultra Low-Latency Bluetooth transmission that minimizes the sound delay and you can easily play games without any sound delay. Other than that, there are two music modes where you can either select Balanced Mode or the Bass Mode. Activating any of the modes is quick and easy. Simply double-tap on the left earbud and you can switch between the modes.
Oppo W31 also comes with Wearing Detection. The earbuds automatically pause and play the music when you wear or remove them from the ear. If you are using an Oppo smartphone, the quick pairing would be the cherry on the cake for you.
Pairing earbuds is quick and easy on other Smartphones as well but Oppo smartphones have their own User-interface for pairing Encho W31, something like Airpods pairing with iPhone.
Noise cancelation, IP54 Certification Dust & Water Resistance, Google Assistant & Alexa compatibility, Touch controls, 15 hours of music playback, beautiful design are some of the reasons that make Oppo Encho W31 one of the best earbuds under Rs. 5000.
8. boAt Airdopes 441
You probably already aware of this brand name. The boat is known for budget-friendly earphones, headphones. To extend their product line, they just introduced Airdopes 441 which are truly wireless earbuds that you can buy for under Rs. 5000.
Available in really cool funky colors, the earphones offer you Bluetooth 5.0 for fast connectivity and long-range connection. You are also getting touch controls with Airdopes 441 which is pretty impressive considering the price range. IWP aka Instant Wake N Power technology puts the earphones into connection mode as soon as you open up the case.
Ear hooks on the earbuds and IPX6 Water, Sweat-resistant give you a tight grip and also allow you to use them for physical activities including gym, running, jogging, and any other kind of rough activities. On a single charge, earbuds will give you power for straight 3.5 hours and you get an extended 14 hours of backup with a 500 mAh charging case which is equipped with a Type-C USB for charging.
Touch controls, Siri & Google Assistant are some of the additional and worthy features you are getting with Boat Airdopes 441.
9. JBL C105TWS
Here is the updated version of C100 Truly Wireless Earbuds from JBL. C105 TWS is a better and improved version of its predecessor. The sound of the earphones is powered by 5.8mm Dynamic Drivers JBL drivers and you can definitely expect the best audio quality under 5000. The earbuds are good enough to process deep bass and sub-bass parts of music along with well-balanced mids and highs. To some extent, you will also experience noise cancellation but don't expect noise cancellation in an extremely noisy environment.
For controlling calls, voice assistants, and music, JBL C105 truly wireless earbuds come with a tactile button instead of touch controls which is okay for the price range. On a full charge, you can enjoy music for straight 5 hours and with the case, you get an extended battery life of 12 hours. For charging, you get a USB to micro USB cable in the box, and with 15minutes of charge can give you juice for 1 hour. Bluetooth 5.0 gives you a seamless, uninterrupted connection on calls as well as for entertainment. Unfortunately, JBL didn't provide a USB Type-C port for charging.
The latency of JBL C105 is great and you can definitely play games using these wireless earbuds. It weighs just 58gm and you can easily wear it for your light workout sessions. Because earbuds are a little big in size, it gets loose on extreme movements. Three extra silicone earbuds make sure it fits every ear canal and you can have long comfortable music sessions. Available in Black and white colors, JBL C105 indeed a value-for-money truly wireless earbuds under Rs. 5000.
10. Blaupunkt BTW01 True Wireless Earbuds
Blaupunkt is a german brand that came into my sight when I was looking to install a music system in my car. They have some of the finest music systems for cars. With this popularity, now they bring truly wireless earbuds that look good and sound great. 
If you are looking for truly wireless earbuds under 5000 with touch controls, Blaupunkt BTW01 is another great option for you. There is no button on the BTW01. With a mere touch, you can control your music, calls, and trigger Google Assistant or Siri for voice commands. On a single charge, you can enjoy music for straight 6 hours. Germans are known for the craft that you can see in their cars, and now in BTW01. The earbuds are angled at 45 degrees that gives you superb fit and comfort at the same time.
The charging dock of this wireless earbud is of 590mAh capacity that allows you to charge your earbuds 3 times. Also, these are IPX5 rated which makes them water and sweat resistant, good for gym activities. All this package is equipped with the latest Bluetooth 5.0 version.
11. Lenovo HT10 True Wireless Earphones
Here is another pair of truly wireless earbuds that you can buy for under Rs. 5000 in India. Lenovo HT10 comes with Bluetooth 5.0 that provides you uninterrupted connection with minimal sound delay. The earbuds also equipped with the latest Qualcomm qcc3020 chipset which is the latest Flash Bluetooth Audio SoC. There are no touch controls on these wireless earbuds. You can control music, attend calls, and trigger voice assistants using the buttons at the back of the earbud.
Lenovo HT10 also supports APT-X HD audio that supports 24-bit music quality over Bluetooth and also delivers the best details in the music. With minimum latency, you can definitely use these wireless earbuds for playing games, playing the MIDI instrument on your phone. Lenovo HT10 wireless earbuds come with IPX5 water resistance, which makes the earbuds splash-proof. On a full charge, you can use these wireless earbuds for straight 8 hours and it takes 2 hours to fully charge the earbuds. Packed in a premium-looking chassis and appealing design, you can definitely consider these wireless earbuds by Lenovo.
See Also: Best Surround Sound 7.1 Gaming Headphones
12. Realme Buds Air
These truly wireless earbuds from Realme are probably the most advanced wireless earbuds (Not anymore) you can buy for under Rs. 5000. First of all, it looks like Apple AirPods, not only the looks, it also works like Apple AirPods. Although I have a lot of wireless earbuds still, I gave them a try and it worked just great.
Talking about the earbuds, Realme Buds Air comes with touch controls that allow you to control your music, calls, and trigger Google Assistant and Siri for voice commands. Buds Air also comes with Wireless Charging, so if you have a wireless charging dock, you can simply place it on the charging dock to charge it. For crystal clear sound and deep bass, Realme Buds Air is equipped with 12mm Dynamic bass boost drivers with dual-mic noise cancellation for calling.
On a full charge, you can use Realme Buds Air for 3 hours and with a Charging dock, you will get 14 hours of power backup. There is a USB Type-C port on the dock to charge the charging dock.
It also comes with Smart Wear detection that means it automatically detects when you wear and remove earbuds from your ears. It automatically pauses the music when you remove them from the ears & plays it when you put them back.



Just like Airpods, Realme Buds Air also comes with Open-to-connect that provides you instant connectivity the moment you open the dock. For gamers, there is a gaming mode for super-low latency. You can easily play games using Realme Buds Air without any delays in the transmission of audio.
Aesthetically and design-wise, Oppon Encho W31 is better but Buds Air is not bad at all. If you are looking for an Apple Airpods alternative, Realme Buds Air is perfect for you. Go for it.
UPDATE: I used the earbuds and unfortunately they got dead after 6 months.
13. Skullcandy Sesh
Skullcandy is a renowned brand in the earphone industry. With the trend, Skullcandy launched its truly wireless earbuds that too under ₹5000. Skullcandy Sesh truly wireless earbuds are packed in a small chassis that delivers powerful sound and it doesn't look cheap in hands. They have a noise isolation design and with 3 extra pairs of silicone, buds seal the ear canal and give you deep bass, which also cuts out ambient sound.
There are no touch controls on the Skullcandy Sesh truly wireless earbuds but there is a button using which you can control your music, calls and also trigger voice assistants like Siri and Google Assistant. With a full charge, you can enjoy music for 3 hours and the charging dock can charge it 2 times. Available in 3 colors, Skullcandy Sesh is a decent pair of wireless earbuds under ₹5000 in India.
14. Noise Shots X-Buds
Here is another value for money best Wireless earbuds under 5000 by Noise. Talking about Noise Shots X-Buds wireless earbuds, these are equipped with Bluetooth 5.0 which enables faster & stable pairing and better range. The Noise Shot X-Buds also comes with Touch Controls.
You can control music, trigger Google Assistant, and Siri, attend or reject calls with a mere touch on the earbuds. There are presets for every action that you will get used to it once you start using the touch controls on Noise Shots X-buds.
On a full charge, you can listen to uninterrupted music for 4 hours and with the charging dock, which is also a carrying case, you can charge the earbuds 4 times which gives you a total battery backup of 16 hours. With the superior audio codec, you will get the best audio quality and compatibility on a variety of devices.
IPX5 rating makes them sweatproof which is good for gym sessions. These Noise Shots X-buds are compatible with Android as well as iOS devices and you will get 3 color options viz Peach Orange, Teal Green, and Matte Black.
15. Noise Shots XO
This list is ruling by Noise, but this list is not sponsored by Noise.  It is my job to introduce you to new and better products from reliable brands within the budget. So here is Noise Shots XO with touch controls.
Talking about the design of the whole package of Shots XO, this is inarguably the best design of truly wireless earbuds. Unlike other earbuds, the charging case of Shots XO comes in a round shape with an elegant metallic finish that slides to open the case. The look of earbuds is somewhat like Samsung Buds and it looks premium in design. Inside Shots XO, it is equipped with Qualcomm aptX that provides high-definition sound quality and also comes with CVC 8.0 and Noise Wind Cancellation. Controlling music and attending calls on Noise Shots XO is a pleasure as it comes with touch controls. There is no button on the earbuds, giving it an elegant look.
On a full charge of Shots XO, you can enjoy uninterrupted music/movies for 6 hours and you will get an additional 30 hours from the charging case. Noise Shots XO wireless earbuds also support wireless charging. Simply place the case on the charging dock and it's done. You can also charge the dock using USB Type-C. (Please note, the wireless charging dock is not included in the box)
Shots XO wireless earbuds are available in Rose Gold, Metallic White, and Space Grey color. If you are looking for truly wireless earbuds under 5000, this Noise Shots XO is something worth considering.
16. xFyro xS2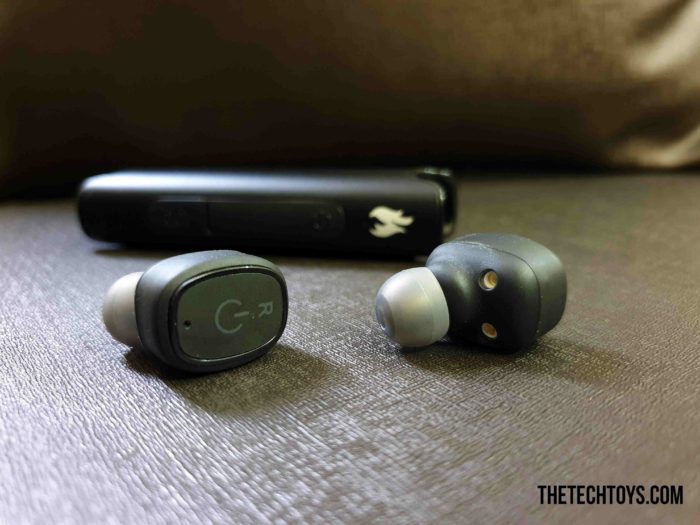 From the makers of the US, we have Waterproof, Dustproof, and Wireless earbuds called xFyro xS2 and it is one of the best Truly Wireless earbuds I have ever used in this price range. xFyro xS2 comes in an attractive packaging that includes 1 micro USB cable for charging Dock, Manual Booklet, 2 extra pair of silicon buds, an Aluminium Charging dock, and a pair of Waterproof and dustproof wireless earbuds.
The charging dock of xFyro xS2 with the capacity of 850 mAh comes with power 'In' & 'Out' ports that allow you to use Charging Dock as the Power Bank also, like just in case. With the capacity of 850 mAh, we got 50 hours of battery life of the charging dock which is really good. The charging dock has a LED battery indicator that shows you the battery level of a Charging Dock.
The charging dock is equipped with magnetic charging pins, that hold the earbuds to the charging dock even in rough movements. Charging xFyro xS2 earbuds is easy. Simply place the earbuds near the Charging pins and it will automatically stick to it and will start charging. You will see Red LED indicator while Earbuds being charge.
Talking about the earbuds, it is made up of soft rubberized material which is perfect for long music sessions. With long Music/Movie session, I mean for straight 8 hours. On a single charge, you can enjoy wireless music/media for 8 hours. I am using it and I continuously watched 7 episodes of '13 Reason Why' on Netflix with a single charge.
In case of emergencies, you can fuel up the 75% battery of earbuds in just 30 minutes as it comes with fast-charging til 75% which approximately takes 30 minutes. The fit is perfect and comfortable even for a longer duration.
To be honest with the sound quality, it is better than I expected. The Bass is deep and thumping without disturbing the mids and highs. Vocals and highs are also brilliantly balanced. Noise Isolation and suppression works brilliantly on the xFyro xS2 as it will literally isolate the external sounds and gives you the best music experience. Do not use it while walking on Busy Roads. xFyro xS2 comes with Bluetooth 5.0 which gives you a stable and clear Bluetooth connection.
Although the connection gets disturbed when I connected xS2 with my laptop having Bluetooth 4.0 but on connecting with my Galaxy Note 9, it is really smooth and gives the smooth connection without any interruption within the range of ~30 feet which I guess is really impressive
xFyro xS2 is IP67 rated which means you can take them in the pool up to 1 meter for half an hour. For the gym, it is great. xFyro xS2 will not get offended by the sweat. The xFyro xS2 also comes with hands-free calling. Both the earbuds come with a button and L & R label that responds differently for Volume up, down, accepting or rejecting the call, next, previous, Play, Pause. You can also trigger Google Assistant and SIRI by tap and hold the button on the earbuds.
You can read the full xFyro xS2 Review here.
(Use Coupon Code THETECHTOYS10 for Additional 10% Discount)



17. WeCool Moonwalk
Equipped with the latest Bluetooth v5.0, Moonwalk delivers high-fidelity sound with deep bass and crystal clear highs. You will also experience noise cancellation to some extent. These are not noise-canceling earphones and this is not their prime feature. You will experience Noise cancellation when you have a perfect fit or say it is Noise Isolation.
Moonwalk truly wireless earbuds come with a charging dock of 1000mAh which can charge the earphones 8-10 times on a single charge. Earphones take ~1 hour to charge and on a full charge, you will get a playback time of 50 hours which is not bad at all.
One of the best things about these truly wireless earbuds is the automatic Pairing. It is something like Apple Airpods. You bring out the earphones from the Charging Dock and it will automatically get connected to the device with you. The button on each earbud does the function of Play/Pause, Next, Previous, Attend/Reject Calls, and to activate Google Assistant/Siri. The fit of Moonwalk Earbuds is great and it fits perfectly. You will also get 3 extra silicon tips of different sizes. Also, Moonwalk is IPX6 Waterproof which is safe for gyming, in the rainy seasons.





Best Wireless Earphones under ₹5000: Final Words
So these are some of the best completely wireless earphones under Rs. 5000. Obviously, these are not the best wireless earbuds in the world but considering the price, you are getting the best in the class.
If you don't have any idea which one to buy, you can go for Oppo Encho W31 or OnePlus Buds which are good and value for money wireless buds under 5k. Noise Shots XO is also something worth considering. They have touch controls and also support aptX for HD sound and low latency. Also, they have a better and appealing design.
For Active Noise Cancelation earbuds, we will strongly recommend getting Oppo Enco W51.
You can consider any of them that fits good for your budget and requirements. All the above-mentioned truly wireless earphones under 5000 are worth the buck.
For the best music experience in truly wireless earbuds, consider buying the premium earbuds like Bose, Sony, Jabra and if you have iPhone, AirPods or Airpods Pro are good to go. AirPods are also compatible with Android but you will not be able to use some of the significant features of AirPods with Android which is not a good deal for the buck.
If you know any other truly wireless earbud, let me know in the comment section below. I will definitely be going to add them to these best truly wireless earphones under the 5000 list.