The wired earbuds are good as long as they don't get tangled or you knock off while pumping up in the gym. They have their own faults due to wires. Moreover, wired earphones are old school now but thanks to technology for persistent upgrades in our lives. You can also consider buying wired earphones under ₹2000. Here are 11 best earphones under ₹2000.
The Truly Wireless Earbuds can be your best companion when you are in the gym, running, cycling or even day to day regular entertainment usage. True Wireless Earbuds like AirPods, Sony, Bose, Jabra are not cheap at all but we can definitely get the best options in our budget.
Below are some of the best truly wireless earbuds under $100 that you can buy in India and in US as well. These truly wireless earbuds are not the best alternative to Apple AirPods but still, it serves the purpose.
See Also: Best Bluetooth Speakers under ₹5000
Best True Wireless Earbuds under ₹5000 ($100)




See Also: Best Sturdy Bluetooth Speakers For Outdoors
xFyro xS2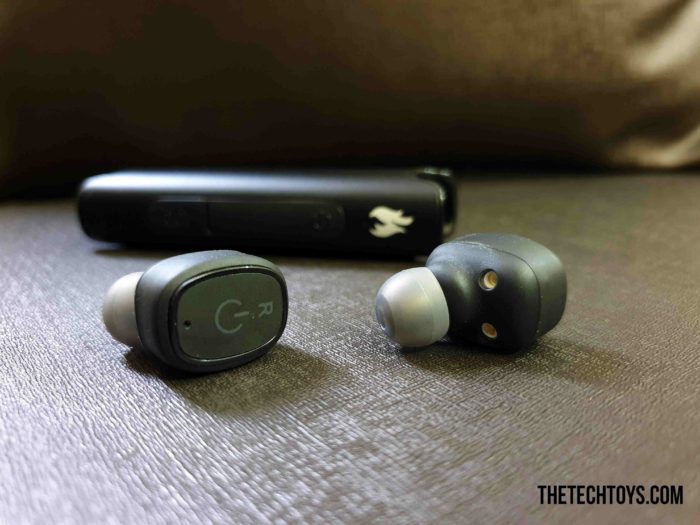 From the makers of the US, we have Waterproof, Dustproof and Wireless earbuds called xFyro xS2 and it is one of the best Truly Wireless earbuds I have ever used in this price range. xFyro xS2 comes in an attractive packaging which includes 1 micro USB cable for charging Dock, Manual Booklet, 2 extra pair of silicon buds, Aluminium Charging dock and a pair of Waterproof and dustproof wireless earbuds.
The charging dock of xFyro xS2 with the capacity of 850 mAh comes with power 'In' & 'Out' ports that allows you to use Charging Dock as the Power Bank also, like just in case. With the capacity of 850 mAh, we got 50 hours of battery life of the charging dock which is really good. The charging dock has a LED battery indicator which shows you the battery level of a Charging Dock.
The charging dock is equipped with magnetic charging pins, that hold the earbuds to the charging dock even in the rough movements. Charging xFyro xS2 earbuds is ease. Simply place the earbuds near the Charging pins and it will automatically stick to it and will start charging. You will see Red LED indicator while Earbuds being charge.
Talking about the earbuds, it is made up of soft rubberized material which is perfect for long music sessions. With long Music/Movie session, I mean for straight 8 hours. On a single charge, you can enjoy wireless music/media for 8 hours. I am using it and I continuously watched 7 episodes of '13 Reason Why' on Netflix with the single charge.
In case of emergencies, you can fuel up the 75% battery of earbuds in just 30 minutes as it comes with fast-charging til 75% which approximately takes 30 minutes. The fit is perfect and comfortable even for longer duration.
To be honest with the sound quality, it is better than I expected. The Bass is deep and thumping without disturbing the mids and highs. Vocals and highs are also brilliantly balanced. Noise Isolation and suppression works brilliantly on the xFyro xS2 as it will literally isolate the external sounds and gives you the best music experience. Do not use while walking on Busy Roads. xFyro xS2 comes with Bluetooth 5.0 which gives you stable and clear Bluetooth connection.
Although, the connection gets disturbed when I connected xS2 with my laptop having Bluetooth 4.0 but on connecting with my Galaxy Note 9, it is really smooth and gives the range of ~30 feet which I guess is really impressive
xFyro xS2 is IP67 rated that means you can take them in the pool up to 1 meter for half an hour. For the gym, it is great. xFyro xS2 will not get offended by the sweat. The xFyro xS2 also comes with hands-free calling. Both the earbuds come with a button and L & R label that responds differently for Volume up, down, accepting or rejecting the call, next, previous, Play, Pause. You can also trigger Google Assistant and SIRI by tap and hold the button on the earbuds.
If you are confused about Wireless Earbuds, simply go for xFyro xS2, they will impress you.
(Use Coupon Code THETECHTOYS10 for Additional 10% Discount)
Noise Shots X5 Charge
Noise is doing really good in terms of truly wireless earbuds in an affordable price range. Noise Shots X5 Charge is their latest addition in the product line up which is packed with the latest tech. Noise Shots X5 comes with Bluetooth 5.0 which is the most updated Bluetooth version till date. Noise X5 is compatible with all the Bluetooth enabled device like Android, iOS, MacOS, Windows or any other possible OS equipped with Bluetooth.




X5 Charge packed in a rubberized material that comes with an IPX5 rating which makes them sweat and splash-proof, good for gym and rain splash. With the 2,200 mAh charging case, you can charge X5 for 10 times and in a single charge, you can use the earbuds straight for 5 hours. With the quick charge of 15 minutes, you will get 1-1.5 hour of usage. You can also charge the phone or other devices using that 2200 mAh charging case. You can activate Siri and Google Assistant with the single tap on the earbud. Along with that, you can control your music and attend/reject calls using the buttons on both the earbuds.
Talking about the sound quality, Noise X5 Charge delivers the crispy distortion-free sound with deep bass and balanced mids and highs. Overall it is good to listen to music on Noise X5 Charge.
Here is something you need to know, the earbud will deliver perfect sound with deep bass only when they fit well in the ear canal. Any leak in the sound will ruin the bass. So, always wear the earbud tightly. You will get 3 extra silicone tips with X5 of different sizes. Try them all and see what fits best for your ear canal.
You will get 4 color option viz, Black, Acid Blue, Candy White, and Hot Black.
Arbily X9
First thing Arbily X9 comes with Touch Sensor to control music and calls. There is no clicky button to perform the function, simply touch the earphones. Apart from that, X9 is equipped with the latest Bluetooth v5.0 that delivers the best sound quality with thumping bass and well-balanced mids and highs within the range of 50 feet. The X9 also comes with Mono Mode where you can connect 2 devices with each earbud. Two Earbuds, Two different devices at the same time.
See Also: Best Surround Sound 7.1 Gaming Headphones
Along with Touch controls on X9 for Play/Pause, Next/Previous, Answer/Reject calls, there are Breathing Lights on each earbud that glows when connected to devices. A soothing light affects not only provides an elegant look but also act as a safety measure during nights. X9 comes with charging dock of 400mAh and you can charge X9 up to 4 times. On a full charge, you will get 6 hours of call time and 3-4 hours of music playback. Talking about the charging dock capacity and playback time, I think it is lower than other Truly Wireless Earbuds but considering Touch Controls and Mono Mode, we can definitely compromise on that. 4 hours of Playback is not a deal-breaker. If you want a bigger battery and longer playback time, check Arbily i9 but you will not get the Mono Mode on that.
You will get 3 extra silicon tips for different size of the ear canal that provides you a comfortable & perfect fit for long hours. X9 are also IPX7 certified making them safe to use sweat, water, rain. These are the only Truly Wireless Earbuds under ₹5000 that comes with Touch controls. Definitely worth the try.
Chevron Wireless Earbuds
Here is another value for money True Wireless earbuds by Chevron. Talking about Chevron Wireless earbuds, these are equipped with Bluetooth 4.2 that gives you stereo sound high-quality music even from 33 feet Away. The Chevron's CVC 6.0 noise cancellation technology also ensures the sound quality delivered to earbuds for the best music experience. The Chevron true wireless earbuds are IP-X4 rated that makes them sweat-proof, that means, no worries while working out.
Hands-Free Calling is also possible with these true wireless earbuds as it is equipped with a high-quality microphone. The Chevron Wireless Earbuds comes with behind the ear design that provides you the comfortable and tight fit even when you are in the gym or in any other kind of physical activity with rugged movements. With Multi-Functional Button on the earbuds, you can answer, end or reject the calls and also, power on or off the earbuds.
The Chevron comes with the impressive backup of  7 hours in the single charge. Your iPhone will show the earbuds battery on the phone but that feature is not available for Android users. Like any other True Wireless earbuds, the carrying case is the Charging dock for the earbuds. In the box, you will get the Chevron Carrying case, 3 Extra Ear Tips, Micro USB Charge Cable and 12 Month Warranty card.
Noise Shots





Noise Shots are the beautiful looking True wireless earbuds from Noise. The earbuds come with a magnetic charging box and a pair of true wireless earbuds. The earphones are equipped with Bluetooth 4.2 which are compatible with Android as well as iOS. IPX 4 rating makes the Noise Shots water and Sweatproof, so go hard in the gym with the Noise Shots.
The charging dock has a refreshed and new design which looks good to the eyes. All over, the product looks premium but the earphones are not that good for the low bass notes. For regular usage, these earbuds are good to go but if you are serious for music, these earbuds will disappoint you.
In the box, you will get 1 pair Earbuds, 1 Charging Case, 1 Usb Cable, Extra Earbuds. The Noise Shots also comes with 6 Months of manufacturing warranty.
Boult Audio AirBass Twinpods
Boult is a new name in the industry and hottest seller right now. They have a wide range of earphones, headphones, also wireless earbuds.
Boult Audio AirBass comes with micro woofers builtin the driver that produces high definition audio. Boult Audio provides you surround sound immersive experience like never before in this price range. It also comes with Noise isolation and passive bilateral noise cancellation. The bass production is deep with balanced mids and crispy highs.
Talking about the design, it comes with IPX5 Water and sweat proof which makes them perfect for everyday use in the gym and also for rainy seasons. The earbuds are made of Aluminium Alloys and the ear tip is rubberized for the perfect tight fit. The Boult Audio comes with Bluetooth 5.0 and compatible with all the Bluetooth enabled smartphones, tablets, Laptops, PCs, TV, Streaming dongles, Android tv boxes.
Boult Audio Wireless earbuds also comes with an inbuilt mic for hands-free calling, Siri and Google Assistant voice commands. Apart from that, you can also control your media from the earbuds itself.
With the single charge, you can use Boult Audio Earbuds for 8-10 hours and charging case can charge up to 3 times. You will get 2 color options that is Grey and Green.
WeCool Moonwalk
Equipped with the latest Bluetooth v5.0, Moonwalk also delivers the high fidelity sound with deep bass and crystal clear highs. You will also experience noise cancellation to some extent. These are not the noise cancellation earphones and this is not their prime feature. You will experience Noise cancellation when you have a perfect fit or say it is Noise Isolation. Moonwalk truly wireless earbuds comes with a charging dock of 1000mAh which can charge the earphones for 8-10 times on single charge. Earphones take ~1 hour to charge and on a full charge, you will get playback time of 50 hours which is not bad at all.
One of the best thing about these truly wireless earbuds is the automatic Pairing. It is something like Apple Airpods. You bring out the earphones from the Charging Dock and it will automatically get connected to the device with you. The button on each earbud does the function of Play/Pause, Next, Previous, Attend/Reject Calls and to activate Google Assistant/Siri. The fit of Moonwalk Earbuds is great and it fits perfectly. You will also get 3 extra silicon tips of different size. You can use any of them that fits perfect for your ear canal. Also, Moonwalk is IPX6 Waterproof which is safe for gyming, in the rainy seasons.





Completely Wireless Earbuds under $100 (₹5000): Final Words
So these are some of the best completely wireless earbuds under ₹5000 or $100. Obviously, these are not the best completely wireless earbuds but considering the price, you are getting the best in the class. If wired earphones don't bother you, you can get the best earphones under ₹5000.
If you don't have any idea which one to buy, you can go for
Noise Shots X5 Charge
which is good and value for money. Apart from that, if you need Touch Sensor functionality under ₹5000, simply go for
Arbily X9
that comes with Touch Sensor to control music and calls. With these 2 names, that doesn't mean other Earbuds mentioned in the list are trash. You can consider any of them. All the above mentioned truly wireless earbuds are worth the buck.
For the best music experience in true wireless earbuds, consider buying the premium earbuds like Bose, Sony, Jabra and if you have iPhone, AirPods are good to go. AirPods are also compatible with Android but you will not be able to use some of the significant features of AirPods with Android which is not a good deal for the buck.
If you have any other truly wireless earbuds under ₹5000, let me know in the comment section below.